At Real Property Management North Puget Sound we deal with rental property damage everyday and know rental property damage can show its ugly face in many forms.
Recently, we got a tenant call at 7 PM on a Friday night telling us a loud boom had taken place and that an SUV had crashed into the side of the building. The crash had caused quite a bit of rental property damage outside and inside of the unit. I rushed over to find out the Everett, WA, Police Department and Fire Department were already on the scene. Prior to my arrival, the driver of the SUV fled the scene, and the police were in the process of searching for the "Hit and Run" individual responsible. Since the driver left the scene of the accident, this indecent went from a standard property damage claim to a criminal "hit and run" charge.  Luckily no one was injured.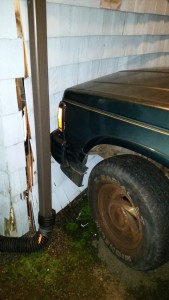 To properly report the property damage, as a property owner, here are the guidelines to follow
-Obtain a police report of the incident from the authorities on scene.
-Contact your property insurance provider right away and provide them the information they need to start a claim. (Much of the info they need will be on the police report)
-See if your tenant has renter's insurance because if the property is not safe to live in, the tenant may have to get a hotel room until it is determined by the city building inspector the building us sure and safe to enter.
-If the tenant does not have renter's insurance to cover hotel room costs, the onsite fire marshal can call the local American Red Cross Chapter's Emergency Response Team. The A.R.C.E.R.T. will place the tenant in temporary lodging if needed.
Real Property Management North Puget Sound services all your residential property management needs in Snohomish and North King Counties.
We are pledged to the letter and spirit of U.S. policy for the achievement of equal housing opportunity throughout the Nation. See Equal Housing Opportunity Statement for more information.